Harry Baber

Vicar of Ramsbury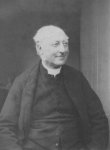 The Reverend Harry Baber
H
arry Baber was born in St. Georges, Bloomsbury, London
[1]
on 18 March 1817. His father was the Reverend Henry Hervey Baber, the Keeper of the Printed Books at the British Library. Harry's father also became Rector of Stretham and Little Thetford near Ely, a post that he held until his death on 28 March 1869. Harry's mother was Ann Baber nee Smith.
Henry Hervey Baber remained as Keeper of the Printed Books until 1837. Harry's father had the use of apartments in the grounds of Montagu House, which housed the Library at this time. The present British Museum was built starting in 1833, on the site that was occupied previously by Montagu House.
The apartments were of differing sizes according to the rank of the occupier. Each time Harry's father was promoted the family had had to move to a new flat within the building. The flats were in a pair of three storey buildings, (two floors and an attic storey) which was at right angles to the present front of the 1837 British Museum. They enclosed a quadrangle, which filled much of the present day British Museum Courtyard.
When Harry was two in 1819, the growing family was occupying the apartment to bursting point, for his father wrote a long complaint that the rooms "suffered from dry rot, and had not been painted for eight years. There was not enough room for his family of eleven persons since there were only four bedrooms. In a moderately sized room four persons had to sleep, and two servants shared a room that measured seven and a half feet by six and a half. When one of his family was home from school a bed had to be hired in the neighbourhood, and sometimes for want of space Baber himself had to sleep out."
[2]
Young Harry must have spent most of his early childhood in and around the present day Russell Square area. His father is recorded as working in the Library for five days per week.
Harry Baber was educated at Westminster School; matriculating at Michaelmas 1834. He was admitted to Trinity College, Cambridge on 13 June 1834. He became a Scholar in 1835, a Bachelor of Arts in 1839 and MA 1842.
[3]
Whilst at Cambridge Harry spent a considerable amount of time botanising. It is not clear if this was part of his study, or a spare time occupation. Records exist in the diaries of Charles Babington and J S Henslow which record some of his trips and finds.
Chenopodium rubrum Stretham, H.Baber (Hb CC Babington), Oct.1838, CGE.
Lamium purpureum, Grantchester, H Baber, 6.1837, CGE.
Lythrum hyssopifolia L. Stretham, H Baber, 9.1837, E.
Myosotis ramosissima, Pit beyond Observatory, as M.collina flore albo., [var mittenii Baber added in pencil], H Baber, 6.1837, CGE.
Mentha x gentilis var cardiaca (Baber), Marshy field by Finch's Walk, Cambridge,.
Rorippa amph. Stretham, H Baber, 7.1838, CGE;
near Ely, H Baber, n.d. (but Babington label), CGE;

Trifolium subterraneum Gamlingay, Prof Henslow, H Baber (in pencil), Hb Churchill Babington, 1836, CGE.
Sparganium emersum Stretham-fen, as S.simplex, H Baber, 8.1837, CGE.
Veronica agrestis Stretham, H Baber, 30.9.1837, CGE.
Veronica polita Stretham, H Baber, 30.1837, CGE.
Lycopodium clavatum Stretham, H Baber, 9.1837, E.
Minuartia Went with Baber to Madingley...We noticed...Arenaria tenuifolia just come up, in the gravel pit near to the Observatory. 29.5.1837 Bab.Mem.62.
Muscari neglectum Hinton, H Baber, 5,1859, BM.
Oenanthe
Oenan pimpinelloides Wilburton, H Baber, Hb JA Power, 7.1838, 'I call this pseudanifolia, Poll. CE Salmon', & pimpinelloides crossed out. RTE.
Potamogeton compressus Stretham fen, H Baber, 6.1839, det. Dandy & Taylor, UCNW.
Potamogeton gramineus Stretham, H Baber, 1837, det. Dandy & Taylor, CLE.
Pulsatilla vulgaris Gogmagog Hills, H. Baber, May 1837, BM.Cambridgeshire, H Baber, Hb JA Power, 5.1838, RTE.
Gogmagog Hills, H Baber, 1839. ex Hb. F Tansom [?spelling.], YRK:6.
Gogmagog Hills, H Baber, Hb JA Power, 1839, RTE.
Gogmagog Hills, Mr H.Baber in Hb Mrs Atkins, 1839, BM.
Taraxacum palustre Ely, H. Baber, 1839, BM.
After leaving University he was Ordained as a Deacon at Norwich on 26 July 1840. On the following day, 27 July 1840, Harry was appointed curate of Barham in Suffolk. He had been nominated by the Revd. William Kirby Rector of the adjacent parish of Claydon.
The printed licence from Edward Bishop of Norwich is endorsed in handwriting: -
"You residing at Claydon about half a mile distant being allowed to reside out of the parish of Barham aforesaid on account of the Rector being resident in the parsonage house there."
Harry received £50 stipend per year.
The Revd. William Kirby with whom Harry lived was an eminent entomologist who is called by some 'the father of entomology'. He wrote several of the seminal books on entomology, and was recognised as an authority on the subject.
Harry was ordained Priest on 11 August 1841, and Curate of St. Marks Park Street, London.
He seems to have become specialised in education, as he became Diocesan Inspector of Schools for Cambridge in 1844 until 1847. This involved him in visiting church schools in Cambridgeshire and Suffolk. These schools were in isolated villages and towns, and would have necessitated his travelling to the schools. He stayed often in nearby vicarages, and manor houses.
John Kirby Moore's diary records him speaking on one occasion to 110 school children.
During this period he became a frequent visitor to the Stowmarket area of Suffolk. On the 18 August 1846, his younger sister Ann married Philip Freeman (1818 to 1875) who came from the Cedars, in Combs, which is a small village, now a suburb just to the east of Stowmarket. Freeman had also been at Trinity College becoming a scholar in October 1835, as had Harry Baber. Philip Freeman was to become a distinguished clergyman, eventually being appointed Archdeacon at Exeter Cathedral.
On 10 August 1847 Harry Baber married Sarah Frances Rodwell. Sarah was born on 25 May 1820, and christened at St. Andrews Church Alderton on 26 September 1820.
The Rodwell family was an old established family in Suffolk in the East of England, who like the Baber family included landowners and parsons in its ranks. Alderton where she grew up is close to the coast near Woodbridge, a few miles North East of Ipswich.
Joshua Rodwell, Sarah's father, was one of twelve brothers and sisters and had been born on 28 August 1787.
Sarah's mother's maiden name had been Sarah Bredall Moore. She was born August 28 1796, at Badley in Suffolk. She married Joshua Rodwell on the 6 August 1817, at Alderton in Suffolk. Sarah Rodwells Grandparents, James Moore, who was described as a Gentleman when he died on 21 June 1831 aged 66, and Sarah Bredall Moore who died on October 11 1833 aged 77, had lived in the village of Badley, in a house which is now called Woodlands since at least 1793.
This house was about half a mile away from Philip Freeman's parents' house at Combs. Sarah's parents tenanted a farm of about 515 acres from the Earl of Ashburnham. The tenancy was taken over by Sarah's brother John Kirby Moore, and was held until the latter's death on 31 October 1885.
I would like to think that the two figures are Sarah and Harry Baber, but it could be John Kirby Moore with Sarah, as Moore is thought to have been a tall man, but unfortunately there is no note on the photographs to this effect. We do not know when the photograph was taken.
We can only speculate as to whether it was at a social event in the Cedars or nearby that Harry Baber met Sarah Rodwell. Possibly Philip or Ann Freeman introduced her brother to Sarah Rodwell.
Sarah Frances Rodwell had four brothers and three sisters, her elder brother Joshua was born in 1818 and died as an infant probably before 1825, leaving her the eldest child. She had the following surviving brothers and sisters, Mary Jane Rodwell born on 12 February 1823, she died on the 20 February 1882; Joshua Kirby Rodwell born 5 July 1825, died 1867; James Meadows Rodwell born 12 January 1827; Margaret Elizabeth Rodwell born 1831; and finally Ann Moore Rodwell who was born in 1834.
The new responsibilities of married life probably led to his change of career in 1847 when he became Chaplain of Whiteland's Training Institution and College in Chelsea. Whiteland's College appears to have been set up to prepare young ladies to become teachers, recently I found the following amusing exchange in Blackwood's Edinburgh Magazine Vol. 91 (555) Jan 1862 Page 99. This can be found at the Internet Library of Early Journals at
http://www.bodley.ox.ac.uk/ilej
The article entitled 'The Poor and their Public Schools: the New Minute', discusses the report of a Royal Commission on Education, which was sent up to investigate teacher training. At one point they discussed the training of women as teachers.
"The effect of the present system of training is not less dangerous, as may be readily imagined, in the case of the weaker vessels—the mistresses. There is, indeed, a very proper degree of unwillingness, on the part both of Mr Lingen and other witnesses, to admit the complaints which Mr Senior, as a member of a Royal Commission which is above gallantry, insists upon it that he hears made --- "that they know a good deal which they have not to teach, and are ignorant of a good deal which they ought to teach". Mr Baber (who is the ladies' training-master at Whiteland's), confesses that they "spend a good deal of money very foolishly, particularly in dress;" but that is a little weakness which no one will for a moment think of imputing exclusively to any system of training. Pressed by Mr Lake as to any point in which "young schoolmistresses are most commonly found to fail", he replies that he "should be puzzled to select a point"."
During the same year Harry Baber gave a sermon in St Mary's Chapel, Park Street, Grosvenor Square. It was entitled 'Great Cause for National Rejoicing on the Coming of Age of HRH Albert Edward, Prince of Wales'. It must have been well received because Hatchard & Co later published it
[4]
Harry Baber was to visit Suffolk regularly throughout his married life. He seems to have become very friendly with his wife's Grandfather John Kirby Moore. Moore records them frequently visiting. Together they shot in the woods at Badley. Moore stayed in the Baber's house in Chelsea when in London.
Sarah Baber's mother, Sarah Rodwell died aged 57 years at Chelsea on the 28 September 1853 and was buried at Alderton on 4 October 1853. She was probably visiting the Babers who lived at St. Luke's in Chelsea at that time. Her husband Joshua died in Dedham Essex in May 1867 and was buried at Alderton on 15 May 1867.
We have a book that belonged to Sarah Baber called 'The Souvenir Keepsake of Literature and Art', priced One Guinea, full of short stories from locations all over Western Europe, with titles like 'Adventure in Mantua', 'The Student of Gottingen, and the 'Sable Cloak'. This book is inscribed on the front inside page with the following: -

"Sarah F Rodwell, from her affectionate Brother,
Joshua K Rodwell June 10th 1842"
Sarah and Harry Baber had two children, Sarah Elizabeth Baber who was born on 30 November 1848, but who died at the early age of 26 years of epilepsy on 21 April 1875.
We know very little about Sarah Elizabeth, except for that contained in an album of hers. She collected the crests from headed letter paper. These she then glued into a notebook, with approximately 20 on each page in a pattern, which spells out a single letter from her name. The crests range from the crest of HRH The Prince of Wales, through the Crown Princess of Prussia, via Regiments, Cambridge Colleges, and Indian Railway Companies to Mrs Poe whoever she was?
Their son was Harry Hutchinson Baber born 17 April 1850, who went to school at Marlborough College, a public school
[5]
near Ramsbury. After attending Cambridge University at Trinity College he became a Barrister. He does not appear to have served at the Bar for long.
My Grandmother said, "He had one brief and that was enough for him. He gave it up; he inherited money from all his adoring Aunts so that he had plenty to live on. So he didn't do another days work. He sat on committees."
[6]
This is possibly a bit unfair, as he seems to have sat on a lot of charity committees. He became the Chairman of the Governors for the Home For Incurables in Streatham, a post he held for 50 years. He married Clara Barton who came from a long line of Indian Army Officers. Their daughter, Frances Amy Baber was my Grandmother.
In 1872 he became Vicar of Ramsbury with Axford in Wiltshire, until 1891. He was also Rural Dean of Marlborough from 1881. He died on 18 January 1892. Harry is buried at Ramsbury, and it is probable that his wife Sarah is buried there too.
If any of the above strikes a cord, or you are able to add to, or correct any of the above information, please contact me
Nick Balmer
I would especially like to find out more about Harry Baber's work in education or in the parish of Ramsbury, a village of which the older generation of my family seem to held very happy memories, returning there regularly until the 1960s.
~~~~~~~~~~~~~~~~~~~~~~~~~~~~~~~~~~~~
An updated version of this artical and much more information on the Baber family can be found at
www.baberfamilytree.org/Balmer/harrybaberfamily.htm




[1]
1881 Census FHL Film 1341311 PRO Ref RG11 Piece 1275 Folio 75 Page 28.
[2]
P.R. Harris, A History of the British Museum Library 1753-1973, published 1998, page 63.
[3]
Vera Baber.
[4]
British Museum Additional Manuscript 4478. aa. 5
[5]
Meaning a private fee paying school.
[6]
Tape recorded interview 1978.